Maciej Płotka – fotograf ślubny na miarę Twoich potrzeb!
---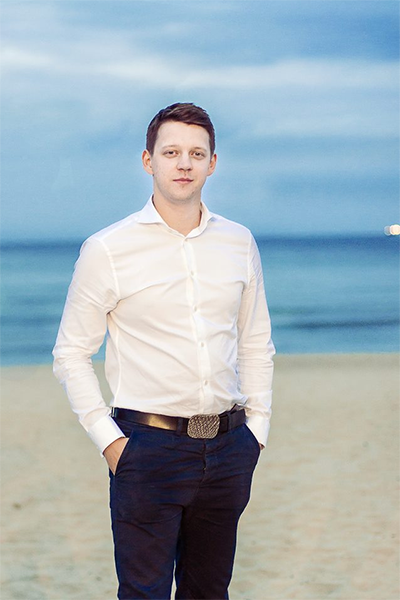 Maciej Płotka
fotograf ślubny, fotograf portretowy, fotograf krajobrazu
Jestem fotografem. Nie studiowałem fotografii, lecz czuję ją odkąd po raz pierwszy chwyciłem aparat w rękę. Moja miłość do fotografii nie jest dziełem przypadku, jest ona wynikiem mojego życia, tego co widziałem oraz tego co słyszałem, miejsc w których byłem i ludzi których poznałem. Moje zdjęcia to ekspresje klimatu jaki panował na danej uroczystości, pokazanie emocji, ludzi takimi jakimi są. Kim więc jestem?
Nazywam się Maciej Płotka, urodziłem się w 1993r. w Kartuzach. Ostatnimi czasy ukończyłem studia na kierunku matematyka. Interesuję się wieloma rzeczami, przede wszystkim moją ukochaną i fotografią, ale często można spotkać mnie również w kuchni, tworzącego coraz to nowe potrawy, od czasu do czasu oddam się sportowi, skoczę na siłownię, bądź zaprojektuję jakąś reklamę, czy też stronę internetową.
Jak wspomniałem wcześniej nie kończyłem studiów fotograficznych, ale żadne zagadnienie związane z tą dziedziną nie jest mi obce, odkąd tylko zacząłem robić zdjęcia przeczytałem niezliczoną ilość książek, artykułów, zgłębiłem nie jedno forum fotograficzne, między innymi forum nikoniarze oraz forumphoto.pl, a więc mogę Wam zagwarantować najwyższą jakość fotografii w przystępnej cenie!
Abyśmy lepiej mogli się poznać i omówić najlepszą dla Was ofertę ślubną udajmy się na kawę, bądź herbatę, na nic nie zobowiązujące spotkanie, na którym możemy omówić wszelkie interesujące Was kwestie 🙂
Pozdrawiam